26
Sep
How to Use Social Media to Grow Your Business: 22 Must-Know Strategies and Hacks for Growth
If you're a brand owner or marketer there's a high chance you're already using social media to grow your business. If you're not… It's time to fix that; in 2022, almost 92% of marketers are using social media for their businesses.
According to the latest statistics, there are 4.65 billion social media users worldwide in 2022—a 4.8 percent increase from a year ago. Each user spends an average of 2.5 hours per day on different networks.
But it's not enough to simply be on social media and post for the sake of posting. In order to grow organically, stay ahead of the competition and convert your target audience into paying customers you need a rock-solid strategy in place.
10 ways to increase your organic reach on social media
1. Focus your efforts on the right places
Simply ask
The best way to get accurate info about your audience is to simply ask them. Try using a survey, put it in an email, or even give some of your best customers a quick call to see how they're doing. While you're getting caught up, ask them which social platforms they use for business and personal purposes.
Look at your share counts
If you have a blog, then you should be using share buttons already. Many of these tools will provide analytics that show who's sharing your content and more importantly, where they're sharing it. Follow these numbers to figure out which platforms to focus on.
Look for your competitors
2. Optimize your social media profiles
Earlier I drew a connection between social media algorithms and the ones used by search engines like Google. When we create content for those engines, we optimize it with all kinds of on-page SEO tactics.
Every aspect of your social media profile can be tweaked for better visibility and optimization. If you want to be a social media rockstar, you need to know the ins and outs of these elements.
When posting, use these same factors to decide which images you use, what keywords you include, and how you phrase your call-to-action. This applies to any and all social media platforms.
3. Post evergreen content
"Create evergreen content" is one of those things that's easier said than done. A typical post on social media, especially on giants like Twitter or Facebook, can have a widely varied lifespan.
Consider solving common and persistent problems in your industry. Even better, try to post something educational and funny. Humor, shock, or awe are great emotions to target with evergreen content.
4. Work smarter, not harder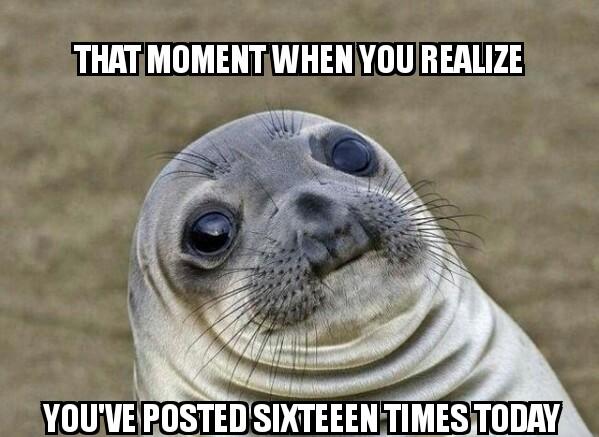 Facebook themselves have said that the average user is subjected to over 1,500 stories per day. To increase engagement, the news feed only displays about 300 of these – those that are most relevant to the user.
No, instead we need to focus on posting high-quality, relevant content. In this case, it's literally quality over quantity. Posting less with higher quality will increase organic reach more than spamming your page with everything you can get your hands on.
While there's no exact science to this, the Buffer blog suggests you post twice per day. Always remember that your business is unique, so don't be afraid to experiment with different frequencies.
5. Use targeting to maximize organic potential
This tactic will vary from platform to platform, but tweaking the settings of your posts to target specific members of your audience can give you a boost in organic potential. For Facebook, you can use organic post targeting to tweak who will see it.
The same type of options are available on Twitter. For example, with their use hashtags, which allow you to categorize your posts. Take any opportunity you can to better target your audience so the right people see your posts.
6. Post during slow hours
Another misconception is that you should post when everyone is online, but that's just going to throw your content into the hurricane of posts that people are seeing. If you wait until non-peak hours to post, you're less likely to get drowned in all the noise.
7. Post the right types of content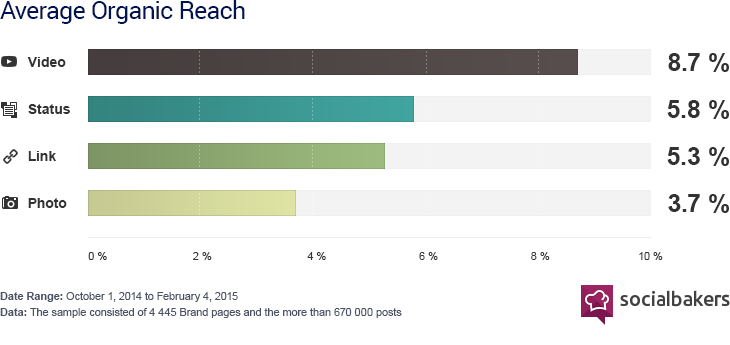 The results of their study showed that videos had the highest organic reach on Facebook by a margin of almost 3%, which is huge given that average organic reach has dropped to 1% or less.
Not only should you vary up the mix of images, status updates, links, and videos that you post, but also use tools like Facebook Insights to track your posts and see which types are performing best.
8. Promote your profiles everywhere
Every place that your business has a presence should also showcase your social media platforms. On your website, your storefront, your business cards, the signature on your emails, anywhere you can think of.
You should also consider adding follow buttons on your website so users to instantly follow or "like" your page, without having to leave your company's blog or website.
Don't forget, you can also cross-promote your social media profiles. Turn your Facebook likes into Twitter followers and vice-versa. You want your presence to be known everywhere which will ultimately grow your organic reach immensely.
Provide Support
Social platforms have successfully broken down barriers between companies and their customers. Now, instead of calling a customer service line, many people turn to Facebook or Twitter to solve problems or find information.
Social media is a crucial part of your business marketing, but it doesn't have to be stressful to manage. Take the first step, create a profile, and start engaging with your customers.
As it continues to weave itself into the daily patterns of our lives, more consumers will go to new and upcoming social platforms for purchasing decisions. Those who have a strong social media presence and branding will increase conversion rates, while those without active social media campaigns could lose potential customers. Which company do you want to be?
Need Engaging Content for Your Social Media?
If you are ready to get more traffic to your site with quality content that's consistently published, check out our Content Builder Service. Set up a quick consultation, and I'll send you a free PDF version of my books. Get started today and generate more traffic and leads for your business.
Sources:
https://www.kontentino.com/blog/use-social-media-to-grow-your-business/
https://mention.com/en/blog/organic-social-media-reach/
https://marketinginsidergroup.com/content-marketing/why-social-media-is-important-for-business-marketing/